Storm Damage in Bedford TX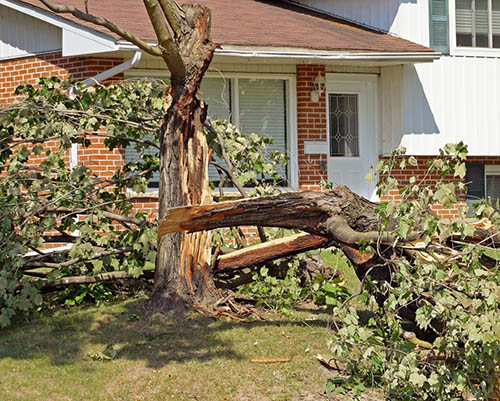 You wake up on a Tuesday morning after a long night of storms and look out your bedroom window. Sighing, you take in the disaster scene in your yard. Three large branches are strewn across your patio, smaller branches and twigs litter your whole garden, and the tree next to your powerlines looks like it could fall down at any second. Unfortunately, storm damage is something all homeowners have to deal with and clean up is a hassle. Stump Grinding Bedford is here to take that load off your shoulders after even the worst Texas storms.
Storm Cleanup Professionals Near Me
Having been Texas-based our whole career, we're no strangers to the mayhem caused by our unpredictable severe weather. From heavy rainfall to hurricane-strength winds to baseball-sized hail we've seen it all. We can help you with any number of problems, from the smallest twigs and branches scattered across your lawn to the biggest branches that crashed through your roof to whole uprooted trees. Not many companies have the proper equipment to take care of all your storm damage needs but Stump Grinding Bedford does.
One of the most important things to do after a storm is to get experts out to assess the damage and any potential safety risks. Call Stump Grinding Bedford while you and your family get to safety. It's not always easy to distinguish which trees are unsteady or about to fall so that's where we come in. Our team is highly skilled in assessing any damage caused by recent storms and we even have free estimates! We'll come to your site and gauge the damage and give you an estimate on how much it'll cost. We like to keep our prices competitive and fair so we'll only charge you for services you actually need at the best price.
Unlike some other companies, we work hand in hand with your homeowner's insurance to give an accurate assessment of the damage. Luckily, most homeowners insurances cover damage from storms, including heavy rainfall, strong winds, and tornadoes. Before tragedy strikes, you might want to review your homeowner's insurance to make sure you're fully covered.
A lot of companies simply aren't prepared to handle the biggest areas with extensive storm damage. Not at Stump Grinding Bedford. We have the latest and greatest machinery and equipment to take care of a wide variety of storm cleanup jobs. Our team of expert arborists knows which tools to use to best fit each unique storm cleanup job and we have the manpower to get the job done quickly, efficiently, and safely.
Storm Cleanup Professionals Are Here to Help
At this point, you may be wondering why you need professionals to help you clean up after a storm. Maybe the storm damage is just a couple of small branches and a bunch of twigs scattered around. Couldn't you just do that yourself? The simple answer is yes, you could, but why not hire professionals to take care of the storm damage instead? We have the necessary skill and know how to avoid causing further damage to your property. Just like us, you have a job and assessing storm damage and cleaning up afterward is our job!
After we've assessed and cleaned up, our certified arborists will look around at the rest of your yard for any future problems. Perhaps one of your trees has branches that are growing too close to your house and pose the risk of falling off and crashing into your house during the next bout of severe weather. We can apply corrective tree trimming to stop disaster before it even strikes.
Let Stump Grinding Bedford come and take care of all your storm damage needs so you can continue with your daily routine without worrying about the safety of your landscape.