Land & Lot Clearing in Bedford TX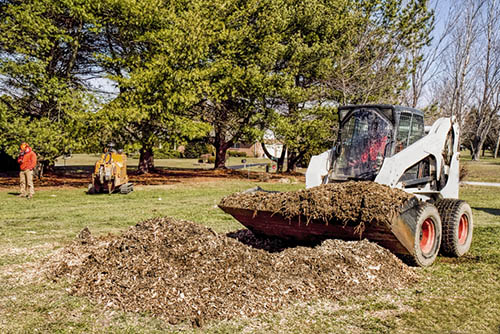 At one time or another, you'll need your land and lot cleared. Maybe you're getting ready for a huge renovation project and need a piece of land totally cleared. Are you going to rely on a group of four people with one chainsaw? We're pretty sure that'll take ages to complete. The more people and equipment you have at your disposal, the faster and safer you'll get things done. Stump Grinding Bedford has both the numbers and equipment to tackle the biggest projects.
Land & Lot Clearing Experts in Bedford
We've encountered plenty of reasons for land and lot clearing. Maybe you're making room for a new inground pool. Maybe you're building a gazeebo or maybe you're installing a huge new swingset for your kids. Who knows, maybe you want a piece of land cleared so you can build your dream house! Whatever the reason, we know how important a clean and clear landscape is for construction and renovation projects and we're looking forward to helping you!
Another reason for land and lot clearing is for safety reasons. Trees and other large plants can pose a safety threat after a big storm. Our team of expert arborists will remove debris big and small. We have families of our own and we know how important it is to keep your kids safe when they play outside. Clearing your lot of fallen branches, trees, and other debris is an important thing to do to maintain the safety and beauty of your landscape.
While there are several reasons for land and lot clearing, possibly the simplest reason is to achieve a clean, neat, and uniform look. Clearing a property involves more than just chopping down plants willy-nilly, it requires an experienced touch to make sure it looks sleek and polished. With Stump Grinding Bedford by your side, your lawn will look better than it ever has because we know how to handle the unique needs of every lawn. Unlike some other companies, our services will leave your land with minimal damage and negative effects on your land.
Bedford Land & Lot Clearing Professionals
First of all, do you want to leave an important task such as clearing your lot to your cousin's girlfriend's brother's best friend? No? It's okay, we wouldn't either. It's best to call on the professionals for all your land and lot clearing needs. With Stump Grinding Bedford's best and most experienced arborists on the job, you don't have to worry about your biggest tree toppling over onto your car because your cousin's girlfriend's brother's best friend forgot to tell you to move it.
Second, we have all the necessary machinery and equipment to make sure no damage comes to you, your house, your car, or other parts of your property (unlike your cousin's girlfriend's brother's best friend). Our team is fully trained to use all types of lot clearing equipment from a simple stump grinder to a small bulldozer. We pride ourselves on our thorough experts who will leave no stone (or stump) unturned. We'll even make sure all shallow root systems are removed so any future projects won't be disrupted.
Lastly, the professionals will give you the peace of mind you need whether you have a large or small project on your hands. Worrying about clearing your lot shouldn't keep you up at night so hiring the professionals will take the weight of that worry off your shoulders (sorry we can't fix your car after your cousin's girlfriend's brother's best friend made a tree fall on it). Unlike your cousin's girlfriend's brother's best friend or whoever, our services are guaranteed to make your life easier. Our team of arborists will provide you with a clean slate that is the perfect canvas for any future project you have.