Bedford Stump Grinding Services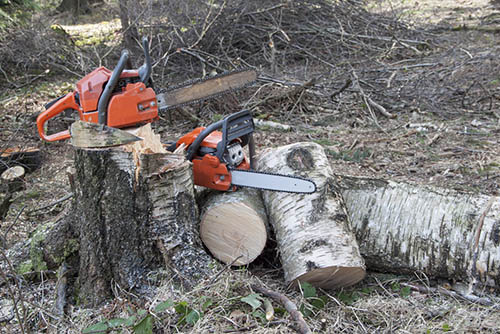 Best Tree Service in Bedford TX
Stump Grinding Bedford is passionate about taking care of trees. We know they provide many benefits to you, your property, and the community. We also know that trees can cause problems. Whether you want your trees trimmed, pruned, a stump removed, or your lot cleared, our expert team of arborists knows exactly what to do to fill all your lawn care and tree service needs. We not only have the necessary equipment, trucks, machinery, and manpower to tackle any sized job, we have the experience to get it done right. We've been in business for a long time and we're here to stay. Our extensive list of services is backed by the most competent arborists in the Bedford area.
We only offer the best customer service for all your tree care needs.
1. Tree Removal
Whether you need your tree removed because it's causing foundational problems, it fell over onto your roof, car, or across your lawn, or the tree is dead and is posing a safety risk, Stump Grinding Bedford will quickly and safely remove even the most stubborn trees.
2. Tree Trimming
Regular tree trimming and pruning help keep your trees happy and healthy. Removing or trimming certain parts of trees ensures that they won't cause any future damage. Stump Grinding Bedford provides only the best tree trimming service whether you want your tree to be healthy or enhance the aesthetics, we've got you covered.
3. Storm Damage
Texas storms are a hassle and you need someone on your team to help you with any damage caused by severe weather. Our team of expert arborists will personally come and assess your property and the damage. We not only fix immediate problems, but we also let you know of any potential problems.
4. Land & Lot Clearing
At some point, you might need your land and lot cleared. Whether you're doing a big renovation project, or if you simply want your lawn to have a neat and uniform look, Stump Grinding Bedford will clear your land for you in the fastest and safest way possible.
5. Emergency Tree Services
Emergencies can happen at any time and we're here to help you pick up the pieces. Perhaps last nights storm knocked over a huge branch and it's blocking your driveway or it fell against your house, Stump Grinding Bedford will come at any time during the day or night to help you get rid of your emergency as fast as possible.
6. Stump Grinding
Stumps come with their own set of problems and we're experienced and skilled to take care of even the most stubborn stumps. At Stump Grinding Bedford, we offer more than just grinding the stump. We also have a stump removal service to take the pesky stump out of your way to keep your lawn looking beautiful.
Taking proper care of your lawn consists of more than simply mowing. We offer services that not only make your yard more beautiful but also safer.
Looking towards the future of your lawn care needs is important to us. While we take care of your immediate tree services, we'll also make note of any potential issues we see and even take preventative measures to lessen the burden your lawn can cause.
One of the best reasons you should consider Stump Grinding Bedford when looking for tree care services is our local roots (pun intended). We're a local company that knows all the unique intricacies Bedford and the surrounding areas possess. Since we are local we have fast response times, which is important when an emergency strikes.
Another reason to consider calling us when you need a tree service is our competitive prices. We assess the situation and provide a quote for a fair price. There is no one price fits all at Stump Grinding Bedford and we only offer the best services at the best prices.